Kendrick Racing Stables and Facilities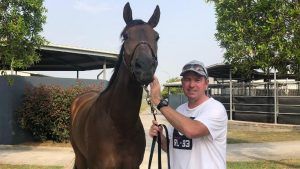 Stuart has 60 boxes oncourse at Corbould Park on the Sunshine Coast. He is a strong believer in a hands-on approach to each of his horses to ensure they receive the upmost care and attention.
He utilizes the World Class facilities at Corbould Park with a Cushion track training surface, Grass track 3 days a week, Walkers, 70m Swimming Pool and Sand Rolls and bush track.
The stables are ideally located at the Sunshine Coast which allows him to travel his horses conveniently to Brisbane and the Gold Coast and surrounds to enable the best results for his horses.
Within the last few years Stuart has purchased a farm at Palmwoods. The farm has a walker, treadmill and also numerous freshening and spelling yards. Due to its close proximity to Corbould park the horses are able to access both locations as to what best suits their individual needs.